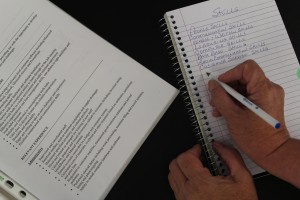 If you are interested in learning how to build a good resume, or if you are looking for your first job and need help getting started, contact one of our Employment Consellors at our Gravenhurst or South River locations. Also check our online calendar to find workshops on how to write resumes and cover letters, offered at each of our locations.
Below is a list of things that will help you prepare for your meeting with a counsellor:
Ensure you have an accurate mailing address for your resume, including street address, town, postal code and an email address, if you have one.
Have a clear objective in mind about the kind of work and position you are interested in.
Write down a list of skills that you have to offer employers. This list does not have to be limited to skills you acquired at a job. It can include life skills you have obtained through education, volunteer work, raising a family, or through a hobby.
Bring a list of places you have worked, including the company name, location and the dates you worked there, as well as the position you held and the duties you were responsible for.
Bring a list of hobbies and interests.
Provide a list of individuals you can use as references. These should include past employers and/or personal references. Please include their names, the company they work for and the position they hold within that company.
Resume Samples:
Here are some sample resumes for various different types of position: